Starting up Quest from the command line
You can do this to play a game, but I think things would behave strangely if you tried to edit from a USB. (I may be mistaken.)
The trick is, you have to enter the full path of Quest.exe and the game file.
---
The current mission
---
If Quest is not installed on your current device, install Quest.
The installer will ask where to install it. You can browse to the USB drive and install it there, choosing NOT to create files in your start menu.
If Quest is installed on your current device.
1. Copy the "Quest 5" folder from your "Program Files (x86)" folder.
NOTE: If you have 32 bit Windows, it will be in "Program Files".
2. Paste the Quest 5 folder directly onto your USB drive in F:
Now, you should have the folder "Quest 5" on the USB.
Inside of that, you should see Quest.exe.
---
NEXT
Make a game and publish it. (Meaning click on "Publish" to compile it, not to actually publish it online.)
We'll say you name that game "Spy Game". This will create the file "Spy Game.quest".
Now, copy that file, and drop it directly onto the USB as well.
Now you should have two things on the USB:
"Quest 5"
"Spy Game.quest"
---
Now for the batch file:
SECRET_FILE.BAT
@echo off
title INCOMING MESSAGE

set /P =You have a new mission.  Press any key to accept.< NUL
pause > NUL
cls
echo RUNNING PROGRAM

"%CD%\Quest 5\Quest.exe" "%CD%\Spy Game.quest"

exit

---
Drop the .bat file onto the USB.
---
Now, you can put that USB into another device, run SECRET_FILE.bat, and this will happen:
---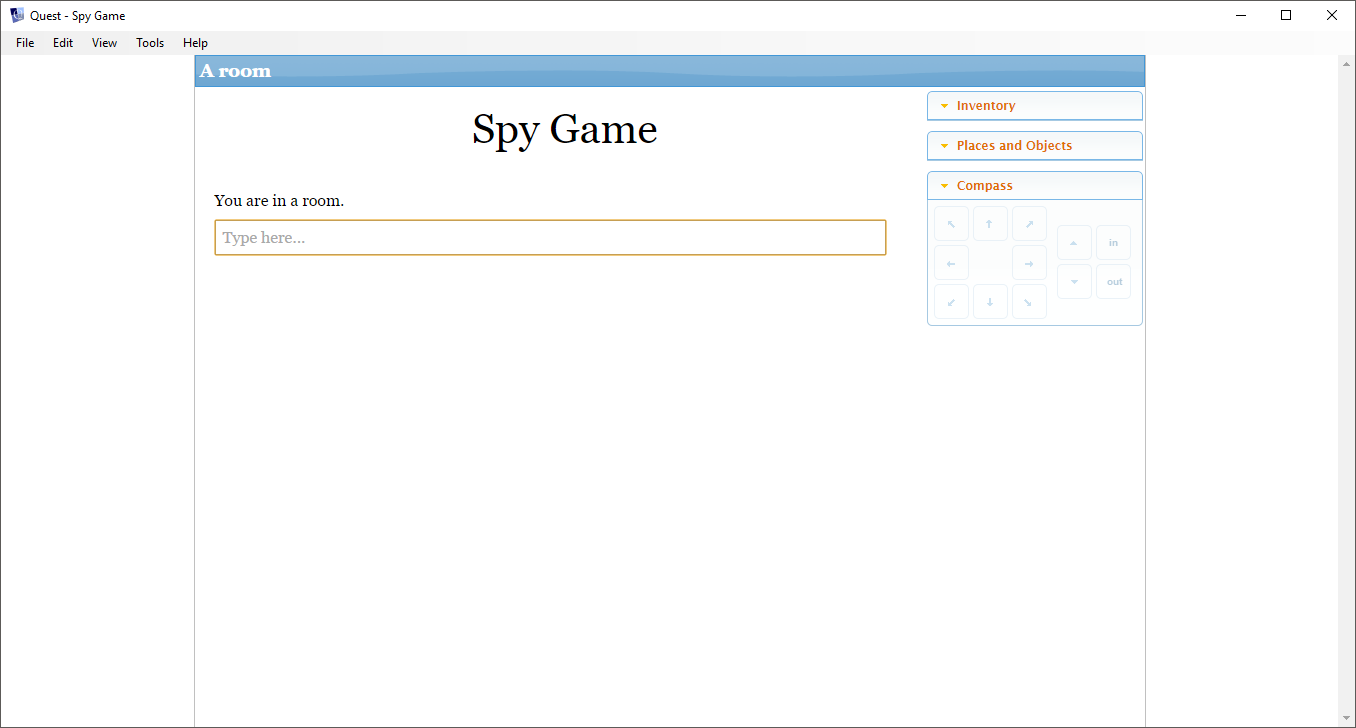 ---
You can right-click on the two files that aren't SECRET_FILE.BAT, then select 'Properties' to render them 'Hidden'.
Then, the folder will only show the .bat file (if the system isn't set up to show hidden folders).
---
NOTES:
---
The internet says you can't make a USB automatically load anything when inserted these days. (I looked around for a while. It seems you can't do that since Windows 7.)
So, you would have to run SECRET_FILE.BAT to start the show.
(You could rename SECRET_FILE.BAT to whatever you wish.)
---
The .bat script has been edited.
mrangel provided an easy way to avoid worrying about which drive letter might be assigned to the USB .