The Life Of Sans The Skeleton (Episode 1) by FanFiction Interactive Inc.
This game was added to the Sandpit for the following reason: Incomplete

The game appears to be unfinished, or is a demo of a longer work which has not yet been completed. Once the game has been completely written, it may be re-categorised.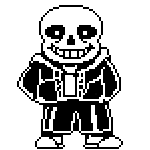 Play as everyone's favorite undertale skeleton, Sans! This is a day in his life in his new home!

This game has many spoilers and takes place after the true pacifist ending. You have been warned.
Log in
to post a review or comment.
Average rating
---
Written by
FanFiction Interactive Inc.
---
Plays
179
---
Downloads
55
Download file
---
Written for Quest 5.5
Added 02 Jun 2016
---
Share