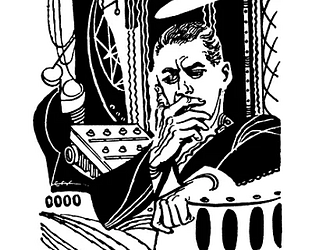 --- Cost of Living ---

If easy payment plans were to be really efficient, patrons' lifetimes had to be extended!

Stateless Writing by Robert Sheckley
Stateful Writing by Dorian Passer
Artistic Engineering by Dorian Passer

This stateless story was first published on December 1952.
This stateful story was first published on June 2022.

--- Developer Notes ---

The first time I tried to adapt Robert Sheckley's Cost of Living to interactive fiction was about two years ago. I'd just completed a second game with — yet another — innovative but custom-made system. The next horizon for me was to adapt a literary short story. My excitement was at an all-time high.

What I did manage to finish was terrible. It stunk! I felt frustrated and disappointed with myself. If you've ever tried to adapt a short story to interactive fiction, then this admission might not surprise you.

This is my second attempt. But this time?

This time I demolished everything I knew about interactive storytelling, cleared the rubble, and reconstructed on top of everything I learned about literature in the past two years.

This is just a glimpse of what I built. I hope you like it.

--- Audience Notes ---

In the introduction, a storyteller explains that an audience does not provide *what to do*, but instead provides *what to think*. This is wrong, as the audience should provide *what to feel*. So please, when you get the chance, please try to use words that have either a positive or negative connotation, such as words like happy or sad.

--- Content Notice ---

Please be advised this short story contains mature themes and discussions about living and dying. Audience discretion is advised.

--- Requirements ---

- Desktop or Laptop
- Chrome, Brave, Edge, or Firefox
- Keyboard, Mouse

--- Legal Notice ---

The Cost of Living by Robert Sheckley is in the public domain in the United States of America.
All other material is under copyright of Dorian Passer.