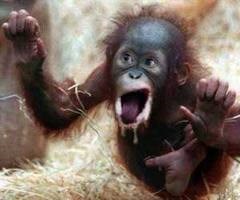 One day, at a secret lair in the American-Mexican border, an idiot scientist (you) gave a monkey named Barnaby rabies. Barnaby ate your scientist friend and ran out of the lair. He spread rabies to largely populated areas and for some reason, went to every grocery store on the continent and ate all the cheese. People started calling him...

BARNABY THE RABID CHEESE MONKEY

Btw... This i probably the shortest game ever... DON'T JUDGE ME!!!