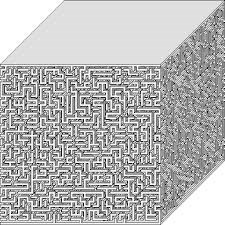 In this game all you do is just explore, don't get stuck, and find your way out. BEWARE! The game is a little strange and if you look at the map you might not be in a little white square. Don't freak out it is just the game not putting the yellow dot in the right place. You still are where you want to be. Any ways now that you know about that just try to have fun and complete the game. If you have any questions just put them in the comments.

For more fun maze games search up: Can You Survive by TCraft777.
You should really play it, the game is amazing and there is something at the end that is... interesting, but I'm not going to spoil it.
You'll have to find out for yourself.