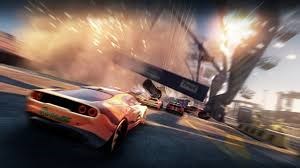 The reality TV show Split/Second has become a multinational sensation, with billions of people tuning in to experience a show they will never forget. With drivers risking it all to face off against each other in a dangerous war of tactics, creativity, and flaming planes crash-landing on runways, the thrill has even attracted poor old you, whatever gender or age or lifeform you are. But just when you're getting all nice and comfy, a global conspiracy threatens the lives of the crew, the producers, and the drivers... drivers like you. How far will you go to save the people you love? How far will you push yourself to your humanly-possible limits? And did i mention the fact that you can crash-land planes? I did? Oh, ok. What was i saying again? Sorry, i have short-term memory. Ermm... Oh right, dark plot and stuff.


Keep in mind that this is one of the first games i'll ever publish, and no matter how long it takes, i will always have a few updates here and there for new scenes, scene edits, and bug fixes. The writing may not be on-par with most text-based games, but i'm not that good with text-based games anyways, so cut me some slack guys.

(Dev Note: December 7, 2017)

Yes, i am still alive. And this game is still in development, along with another game, because the last game wasn't working that great in Quest, and then i had to move to a new engine, and then i didn't do it, and then it's now, and you're reading this note.