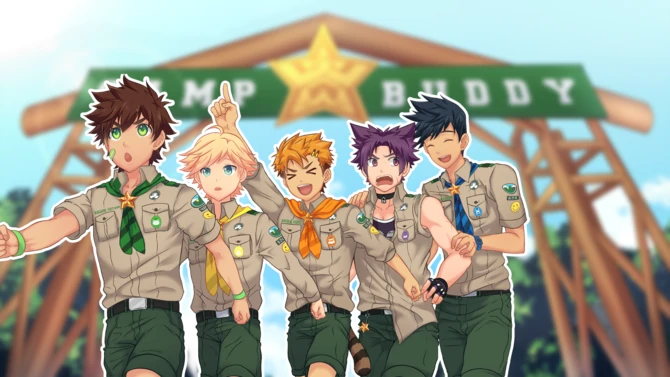 NOTICE: THIS PROJECT HAS BEEN APPROVED/PERMITTED BY BLit's Games THEMSELVES!

(THIS GAME IS CURRENTLY FAR FROM FINISHED, FEEDBACK IS MORE THAN WELCOMED, AS I'VE NEVER USED SQUIFFY, OR DID ANYTHING LIKE THIS BEFORE)

"Camp Buddy 2" is a [FAN-MADE] [18+] erotic BL/gay-themed visual story made by BR4D137 [aka Brad Hall]. It is based/inspired by the game Camp Buddy and is meant to be my own original (perhaps rather unlikely) spin on what a sequel would look like. At the very least, it's something just for fun I wanted to do to show my appreciation to the BLits team and, of course, Mikkoukun (the source of the original game).

"Camp Buddy 2: A -Super- Summer" features the adventures of either Keitaro Nagame or original Buddy scout Viren Thomas from their perspective as they return to 'Camp Buddy' for the second time (for the first time in Viren's case).

Keitaro returns alongside his friends from last summer for more memories and more fun (and to further his romantic life with one of them as his boyfriend, depending on the route traveled on). With the success of the fundraiser they did last summer, the camp was at almost full capacity this time around. And with such success meant they were in for a treat.

Viren is part of the new batch post the fundraiser and so will be experiencing things for the first time just like Keitaro did. Keitaro can go after him as a love interest as well or vice-versa. In addition, Viren can be chosen as the main character you start this very story with; and with that, it means readers can choose what route Viren follows.
Regardless of which you man as the protagonist (Keitaro or Viren), for the latter's sake, he has to be very cautious with whomever he meets. Or else they may discover he has rather… peculiar gifts/powers. But that's not all, he and his fellow campers are yet to discover the terrible threat that may change things forever. This goes well beyond the campgrounds. This is the story that turns campers into new heroes after a meteorite crashes into the beach's waters, and its aura reacts with almost 60% of the campers… and possibly more.

As the player/reader, as stated, you will help Keitaro (or Viren) with his decisions and create a special bond with your chosen partner. Together with Keitaro or Viren (or even the pair together), and so much more: will Camp Buddy save the world? Come find out!

WARNING! THIS GAME CONTAINS ADULT/SEXUAL THEMES, ALL OF WHICH BEING M/M IN NATURE. IF YOU ARE UNDER THE LEGAL AGE, PLEASE EXIT THIS GAME RIGHT AWAY. YOU HAVE BEEN WARNED. THERE WILL BE SEX-SCENES!