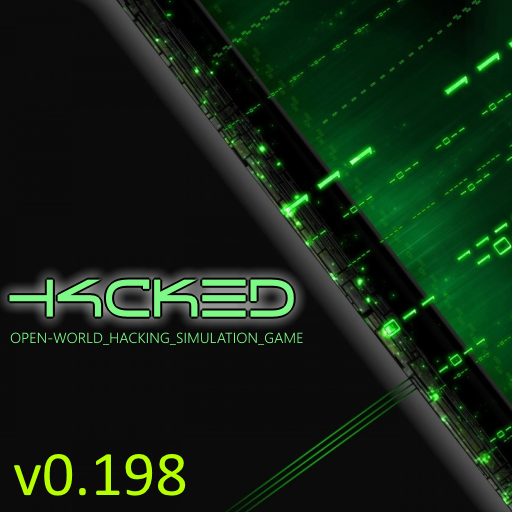 NOTE: THIS GAME IS STILL IN PRE-ALPHA, IT IS STILL IN DEVELOPMENT AND WORK IS BEING DONE ALMOST DAILY! CHECK REGULARLY FOR UPDATES.

Visit our forum:
http://h4ckedgame.proboards.com/

H4CKED is a terminal-based and open-world hacking simulation game designed by Dempsey "FoxN" Van Assche.
The main goal for this game is to try and re-create a realistic environment with hundreds of users and servers that the player is able to explore.
The player will be able to gain access to servers/hosts by using different types of software (exploits, scripts, cracking software, etc...), read personal data, create and manage botnets to execute Denial of Service attacks, create proxy routes, create virusses and unleash them, AND SO MUCH MORE!

AND THAT IS JUST THE TIP OF THE ICEBERG!!

I plan on reading all of the comments posted for this game to try and implement ideas and/or fix issues provided by the community and/or players.
The quality and depth of this game will very much be depending on the feedback from the players.
In the end... you'll forget you're even playing a game.


CURRENT BUILD: 0.19 (June 28th, 2015)
(Not much to do just yet, but basic features have been added)


PLANNED for v0.2:
- More servers/hosts.
- Discovered servers/host fuction (will allow you to view the servers you already found)
- Basic downloading, installing and executing system for software.
- Basic file system (will be expanded in the future).
- Better command bar (Thanks to Jaynabonne)


VERSION HISTORY:
v0.198
- Re-written code that handles the following commands: "more", "connect" and "ping".
- Added host "filedropper.com" with login username: "Monkeyboy" and password "oere" (Unfinished - Errors may occur).
- Re-written help file
- Current search engines added are "Google", "Bing" and "Yahoo". Only searching for "Cats" (or synonyms of cats) will display a result (Testing...)
- Added more achievements (type "more achievements" to see what achievements you have earned so far).

KNOWN PROBLEMS:
- Certain choice options on "filedropper.com" do not work (still a work in progress...)
- Pinging "filedropper.com" will not work.
- Using "force.gen" currently no longer works (Re-writing...)

v0.19
- Added Tutorial (type "tutorial" to start it)
- Added First Program: Brute Force Password Generator
- Added Commands: "run", "more"
- Added temporary command: "download force.gen" to allow for testing.
- Yahoo Search Engine added

v0.11
- Basic achievement system in place. (type "more achievements" to read the achievements list)
- Command added: "more".
- Added Search Engine (Bing).
- Added Fuctions instead of individual scrips for pinging.

v0.1
- Basic concept of connecting and disconnecting from "the internet" added.
- Added a few commands: "ipconfig", "cls", "ping", "connect", "com open/closed".
- Added Search Engine (Google).