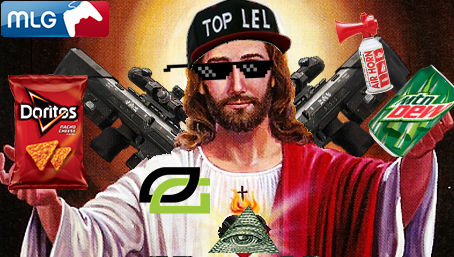 Play as a psychotic gamer who goes on the warpath to destroy all the plebs and noobs of the world. you can attack anyone you come across, and go anywhere you want to. With an rpg-style combat system created by "The Pixie", choose from 5 different weapons (currently) and go to over 40 rooms with 25+ enemies to defeat. Heal yourself with foodstuffs, new expansion coming check back soon!

*NEW UPDATE*
-20 more rooms
-10 new kinds of enemy
-2 new weapons
-Added Park section
-Fixed grammatical errors
-Balanced out monsters
-Added stone guardian to park entrance
-Fixed Invisible cats!
-Fixed Ghetto Street Switch Blade
-Fixed item stealing in SaveALot
-Removed drinking verbs from most foods and added eat verb
-Added boss monster leveling
-Added hooker (have fun with that)
-Added map section exits (new map sections not yet added) give 1 stat point when reached.

If you find any bugs post them in the forum thread i created called "My new game The story of MLJesus"
Special thanks to pixie for his rpg-style combat library.