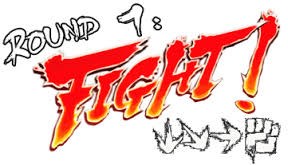 NOTICE!!! PROJECT ON HOLD DUE TO THE FACT THAT I'M LEARNING PYTHON!!! I'LL CONTINUE WITH THIS PROJECT LATER!!! OK? JUST KIDDING!! NO NEED TO ASK!!!
HIIIIYAHHHH! ULTRAAA COMBOO! HADOUKEN! SHORYUKEN! SONIC BOOM! FINAL SMAAAAASH! I tend to have a lot of action in my stories. Gamebooks are no exception. Here's what a one on one fight in a future gamebook might look like! Your objective is to find the most efficient way to send your enemy to the ground! You must think your move through and imagine it in reality. Unlike real battles, you have all the time in the world to ponder your move so take it slow, for what seemed like a good move might bring you tumbling to your doom...
Without further ado...
Round 1, FIIIIIIGGGHHHHTT!
(This game is 9+ for some instances of blood and swearing (one use of damn but nothing a 9 yo can't handle)!!

P.S. I don't own any of the above phrases (hadouken etc.) nor do I own the picture. I believe I have access to them for what i am doing is not to make profit but to make tributes to the phrases and sources of inspiration!

"CAN WE START FIGHTING NOW!?"

"OH YEAH!!!"