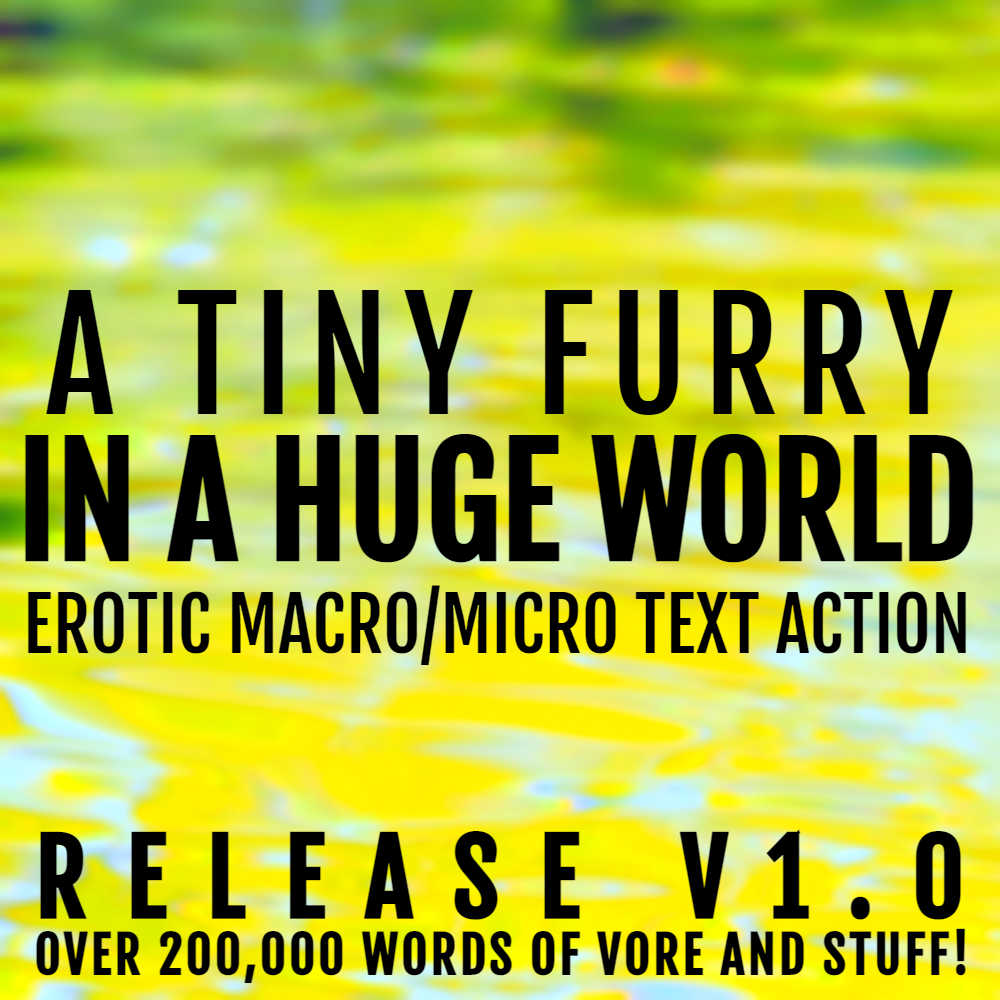 .・。.・゜✭・.・✫ 18+ NSFW CONTENT WARNING ・゜・。..・。.・゜✭・.

v1.0 is here! (2/8/2021)

v1.1 (featuring an exceptionally cruel path with Miles/Andy) is available on Patreon! v0.1 of the sequel game is also up there too!

https://www.patreon.com/queenkyobi

・✫・゜・。..・。.・゜✭・.・✫・゜・。.

CHANGELOG:

CHANGELOG
Added Oscar, a male otter! Now, for the first time in A Tiny Furry In A Huge World, you can make a true friend with a giant! Meet him in the male shower room (just off the west wing corridor)

Oscar's path is by far the most unique path in the entire game! There's tons of stuff in it, including but not limited to:

- Scenes in new locales, including a mall, a laboratory, and the nature trail
- New characters Hannelore (female dragon) and Edelbert (another male otter)
- Tons of vore opportunities (and more!) with new and existing characters in over sixteen new endings

- New TF scenes in the outdoor rest area courtesy of a commissioner

- UI no longer looks like dirt!


・✫・゜・。..・。.・゜✭・.・✫・゜・。.

The story unfolds much like most of them do. After a late night playing video games, you go to college, and end up falling asleep during class. When you wake up, you've found that you shrunk to about an inch tall. From there, you can explore the college and meet it's many giants/giantesses!

There are a bunch of giants in the game (mostly female, but a fair few males too!) and a whole variety of sticky scenarios that you can get in. Most of them are fatal, and involve stuff like crushing (including but not limited to - feet, butts, and hands) vore of all kinds, and general macro/micro shenanigans. There's over 100k words total in this game, so, go nuts exploring and have fun!

・✫・゜・。..・。.・゜✭・.・✫・゜・。.

TIPS:

- Make sure that you grab the staple and string at the beginning of the game. The rest should be self explanatory.

- There's a push pin on top of Ms. Matthew's desk, and a tiny sewing needle on top of Aimee's desk. Both of these objects are identical in function, save for a few syntax changes when you use them. They come in handy for prodding things. Quite a few deaths are locked behind these items. Feel free to use either of them on your pokey attempts - they will both have the same result.

・✫・゜・。..・。.・゜✭・.・✫・゜・。.

Support me on Patreon! Pledge to get early beta versions of the game, and other benefits! https://www.patreon.com/queenkyobi

・✫・゜・。..・。.・゜✭・.・✫・゜・。.

Follow me on Twitter at www.twitter.com/qkyobi to be alerted of any future updates!

.・。.・゜✭・.・✫ HAPPY PLAYING! ・゜・。..・。.・゜✭・.