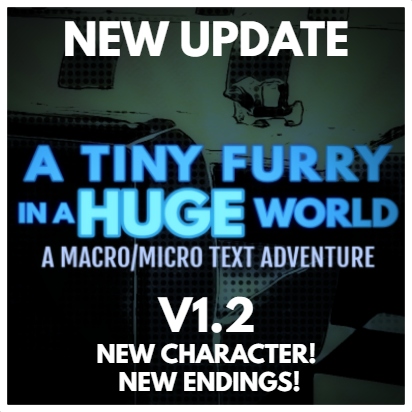 .・。.・゜✭・.・✫ 18+ NSFW CONTENT WARNING ・゜・。..・。.・゜✭・.

v1.2 is here! (1/5/2022)

v1.3 is available on Patreon! Features 50,000 words of new content with Rachel and whole bunch of other stuff - including an in-game map, in-game backgrounds, and a fae dragon!

https://www.patreon.com/queenkyobi

・✫・゜・。..・。.・゜✭・.・✫・゜・。.

CHANGELOG:

CHANGELOG
NEW CHARACTER
- Vincent has been added to the game!
- Vincent is a male sotmaus - which is an alien breed of mouse that's super soft and fluffy. You can find him at the Easy Eat Diner - just a stone's throw away from Mike and Jackie.
- He has paws, cock vore, anal vore, oral vore, and, for the first time in Tiny Furry ever, tail vore. These come in both aware and unaware varieties!
- This is where the bulk of the new content is in

ANDY AND MILES MEAN CONTENT
- Andy and Miles now have a much meaner and much more graphic oral vore scene. Features digestion - suuuuuuuuper painful digestion. You can find this by clambering up on Andy's shoulder and yelling at him!
- There are four endings to this scene depending on what you say to the big couple who are threatening to eat you. You can end up in either Miles' or Andy's tummy.
- There is possible hard vore here (teeth!) and if you do make it down their throats then you will be melted to soup without scrutiny or care.
- Altogether there are 20,000 words of new content here - and every word is spent on cruelty and digestion! If you've ever wanted to get absolutely digestively destroyed in A Tiny Furry In A Huge World, well, this is your chance!

OTHER NEW STUFF!
- The feral fox (found on the nature trail) now has additional scenes - an aware pawjob and an aware mawjob scene. Neither are fatal, and both can be found by getting to her burrow, poking her tail, and picking the new choice there
- New ending added to the vending machine! This one is for Emily - and features unawareish oral vore and implied digestion.
- Mike has a new ending in his [i]shoes[/i]
- Miles and Mike have had a pretty cute crossover ending added that involves dick! Take a nap in Mike's sheath to find it!
- Claire now has aware unbirth scene added
- New transformation opportunities with the strange device in the outdoor rest area!
- UI Overhaul
- Other things that I have probably forgotten
- The majority of the new content added was commissioned, so, thank you very much to those commissioners! -

・✫・゜・。..・。.・゜✭・.・✫・゜・。.

The story unfolds much like most of them do. After a late night playing video games, you go to college, and end up falling asleep during class. When you wake up, you've found that you shrunk to about an inch tall. From there, you can explore the college and meet it's many giants/giantesses!

There are a bunch of giants in the game (mostly female, but a fair few males too!) and a whole variety of sticky scenarios that you can get in. Most of them are fatal, and involve stuff like crushing (including but not limited to - feet, butts, and hands) vore of all kinds, and general macro/micro shenanigans. There's over 100k words total in this game, so, go nuts exploring and have fun!

・✫・゜・。..・。.・゜✭・.・✫・゜・。.

TIPS:

- Make sure that you grab the staple and string at the beginning of the game. The rest should be self explanatory.

- There's a push pin on top of Ms. Matthew's desk, and a tiny sewing needle on top of Aimee's desk. Both of these objects are identical in function, save for a few syntax changes when you use them. They come in handy for prodding things. Quite a few deaths are locked behind these items. Feel free to use either of them on your pokey attempts - they will both have the same result.

・✫・゜・。..・。.・゜✭・.・✫・゜・。.

Support me on Patreon! Pledge to get early beta versions of the game, and other benefits! https://www.patreon.com/queenkyobi

・✫・゜・。..・。.・゜✭・.・✫・゜・。.

Follow me on Twitter at www.twitter.com/qkyobi to be alerted of any future updates!

.・。.・゜✭・.・✫ HAPPY PLAYING! ・゜・。..・。.・゜✭・.