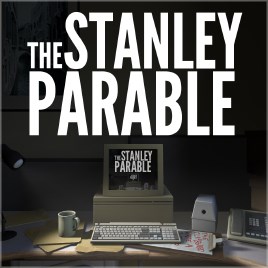 The text adventure of the mind-boggling game; The Stanley Parable. You play as Stanley, a simple man who works for a company. He likes to push buttons, basically; it's his job. But one day, he finds all of his co-workers gone and his workplace completely empty. Viciously curious, Stanley embarks on a journey through the building, eventually uncovering a dark secret from his employers, which threatens Stanley's very existence...

...Or does he? Being in control of Stanley, there are countless ways you can drive the story. You can follow it, go against it, trick it, or even destroy it completely. Which path will you take? How many endings will you find?

It's all up to you, Stanley. Good luck...

Copyright to the guys at Galactic Cafe.

THIS IS NOT THE REAL GAME.