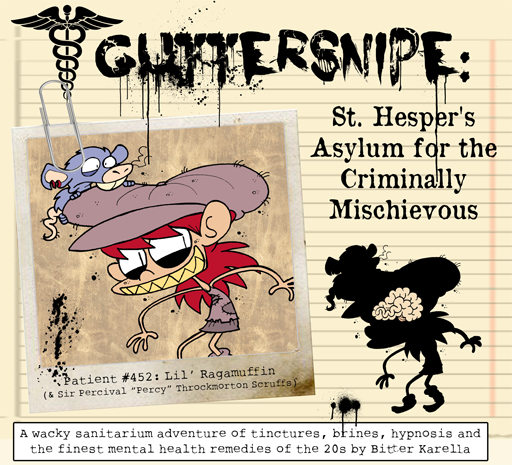 BE AWARE! Uktextadventures will time out your session if you're not logged in and online play may experience lag. Download is HIGHLY recommended for best experience.

The year is 1929. You are Lil' Ragamuffin, the roughest toughest urchin in all of Garbagetown DC and the surrounding wastes of Montgomery County, but somehow the constabulary has managed to capture you and commit you to the city's highest security asylum. You don't aim to stay long.

Guttersnipe: St. Hesper's Asylum for the Criminally Mischievous is a humorously grotesque (or grotesquely humorous) game about a street urchin and her pet sewer rat escaping a sanitarium full of tinctures, brines, and other misbegotten 1920s health remedies.

Special thanks to play testers Davy B, Sarah Adams, Jake Strick, Capslock, Norman Rafferty, and Steph Cherrywell! And to Davy B for additional coding and problem solving!