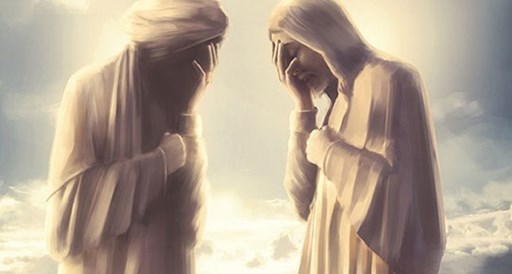 This game is a very short game that tells what could happen if a man from our time suddenly wakes up in the Biblical Era.

This game has nearly 10 ends, in some of them you will win, in some of them you will lose, in some of them, you won't understand what the hell just happened.

This game has its own personality apart from the author: she (yes, she.) can tell you her opinion about you choices, congratulate you when she thinks you're right. Also she has very strange moral codes and strict rules about winning or losing. The author? Well, the author talks with you just one time.

This game does not let you choose the gender of your character. You will start as a man. If you're a feminazi and insist on choosing a female character, here's the story:
You "wake up" in a desert dead*. Sorry, this is the Biblical Era, not a fantasy world.

This game is very simplistic yet may not be exactly correct about that era as it is not created by a historian-trust me, if it was, you would be bored with "historical facts"

This game is made for you to have fun. If you didn't, you can have the pleasure of disliking and you can tell the author about it. If you did enjoy... hey! So did the author, while creating the game. You can also share you thoughts about it.

This game is created by the author as written before. The author's native language is not English, and the author is not living in an English-speaking country. So you may and will see silly grammar mistakes. When you see one, just report it to the author.

Don't forget to have fun, or at least try! :)

* https://www.youtube.com/watch?v=sf8FAqOQUq4 Check it out.