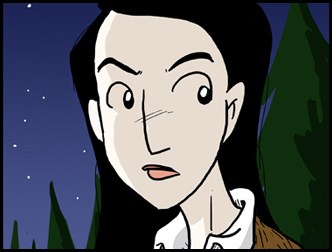 The year is 1957, and the place is lush, storm-tossed Stinglash Island, just off the north coast of Washington's Olympic Peninsula. You are Page LeBlanc, witch in training, and you've returned for another year at dear old Whitefield...and it's definitely not your fault you're a day late.

You arrive to find an empty dock. A locked building. And evidence that the day you missed wasn't just another typical first day at school.

Make use of five different magic spells, meet a cast of quirky classmates, and fully explore the Academy grounds...damaging property, unbalancing ecosystems, and eating way too much gingerbread along the way.

This is the beta version of the game; it should be fully playable and possible to complete, but much of the flavor and scenery is yet to be fleshed out, and a lot of things that seem like they should do something don't. I'm continually making small updates and adding more detail. Please report bugs or problems to me, especially if you get completely stuck or something seems illogical or broken -- that way I can make the game the best it can be!

Tips for playing:
To cast a spell on something, use the name of the spell as a verb.
Look at everything, including yourself. Sometimes item descriptions include hints on how to proceed.
You can't die and it should not be possible to put the game in an unwinnable state, so try everything!