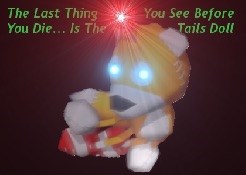 My Text Game where you are put in a lab with the tails doll, all you need to do to escape the lab or die. Updates will happen, right now it's short. And simple, And may have glitches .
Using tails doll which is a creepy-pasta and many people use it in creepypasta games they make.
There are hidden pictures and Easter egg just use the command
Look at Picture #
Look at Easter egg #
It might do something.
Just don't do in the hallways where there's really nothing but the Tails Doll.