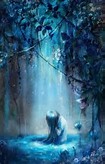 You find yourself in the woods. No recollection of what happened, nothing to base your thoughts on. All you know is that you're looking for something. With a satchel and a look of determination, you try to find your way out of the forest, and find an old wooden cottage through the trees. Try to piece together the vague memories you have to figure out what it is you're looking for, and how to get out of the woods.
DISCLAIMER: Very rude narrator. If you have had conflict with robots in a past life, do not play this game. ;D
Will You Make It Out?